Max Mueller Bhavan, along with two heritage architects, Kripa and Pankaj, had organized a heritage walk in Malleswaram this time, so off we went last Saturday.
Support Citizen Matters - independent, Reader-funded media that covers your city like no other.
It was on the way there that my S3 fell-and-broke! Divya generously lent me her S5 and I used my SD card and took the photographs. Thank you, Divya!
The buildings that were identified and shown as part of the walk were truly heritage landmarks….the only question being, how many of them will survive even the next ten years!
One building, however, has been converted to a heritage hotel, and is in great shape. Here's the Malleswaram sunset over the Villa Pottipatti , it has eight bedrooms named after various saree weaving centres :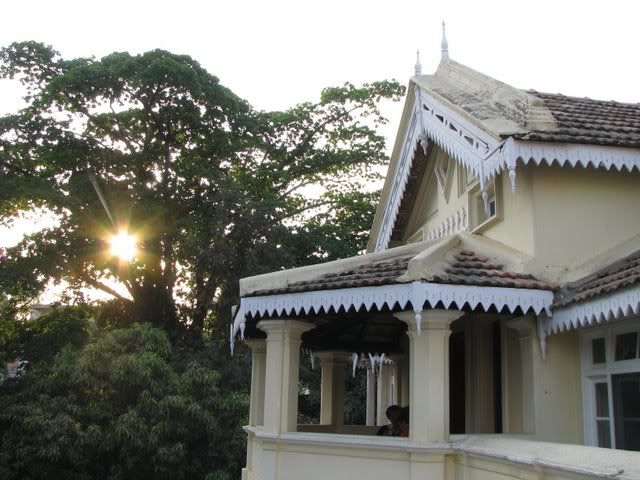 The starting point was given as "St.Peter's Seminary", and it took , Divya, and me quite a while to find it, but it was really beautiful set in an arcadian backdrop of large trees: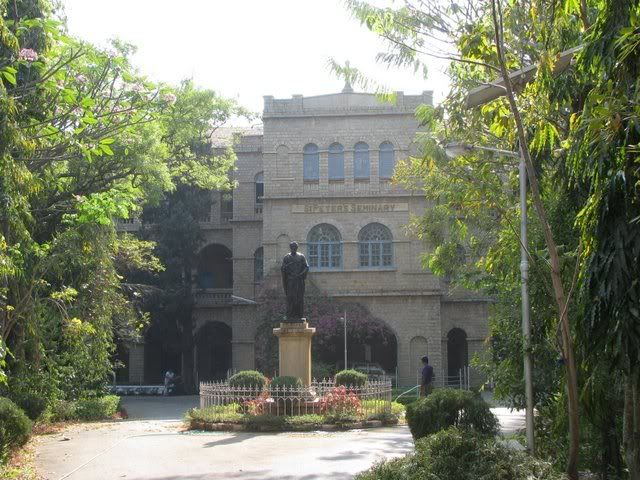 We saw a short documentary on the history of the Seminary, and we were walked around the grounds, and then went to the Malleswaram Women's Society Building: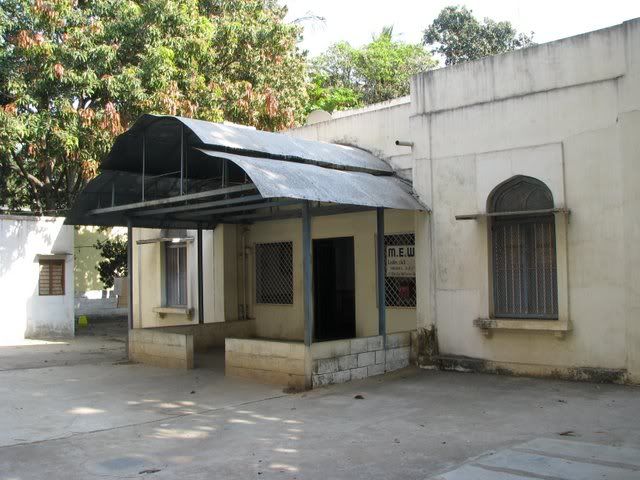 Most of the Malleswaram roads are much narrower than contemporary roads in Basavangudi, and the bungalows nestle amidst large, spreading mango and neem trees….
The building in front houses the studio of the film personality, M S Sathyu, as well as the office of the Crafts Council of Karnataka: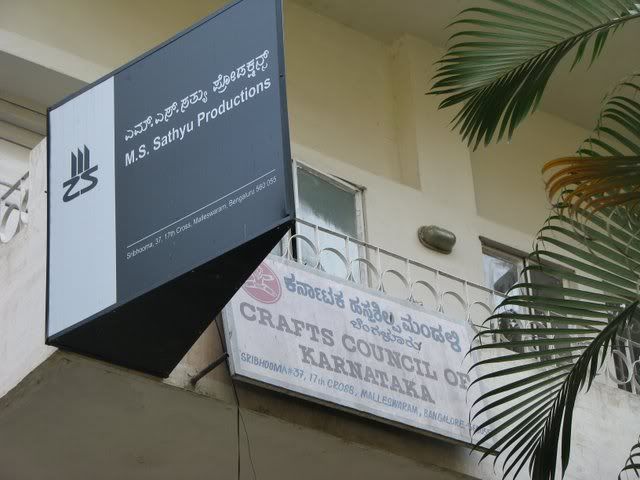 We then went to see the ancient temple of Kadu Malleswara (kAdu= forest, mallEswarA=god who is expert at wrestling) which gives its name to the neighbourhood. Though there is a new, glorious-technicolour gOpuram coming up, the temple itself is redolent of mellow age:
We saw the small temple chariots on the road outside the temple:
We then walked past the narrow roads and steps that led past the Seva Sadan orphanage that Ammin Iyengar had set up so many years ago: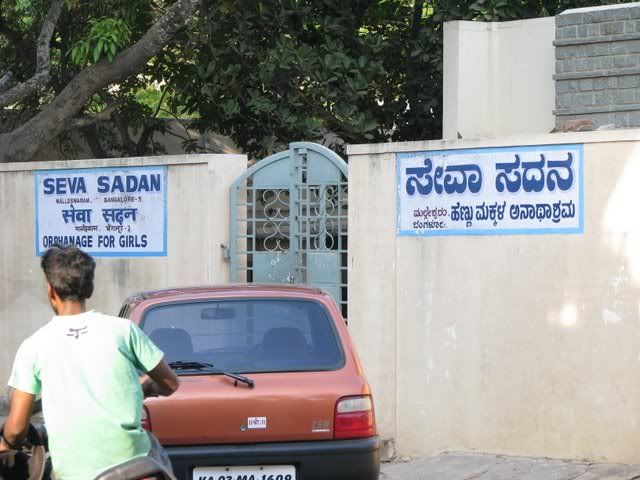 We also walked past "Vema House", where the family of Venkat Prasanna Krishna has been living for close to a hundred years! The Communications/News Department (Varthey Elake) is functioning on the ground floor:
We then came to look around the Villa Pottipatti, and it is exquisitely maintained!
Then we trooped off to the house of Ammini Iyengar and her family. It's called "Kanya" (young girl!) and functions as both home and saree boutique.
Smt Vimala Rangachar talked about the past and for a while, we were transported to a more gracious time!
She showed us the old puja room, where, earlier, a priest would come every day to conduct the worship!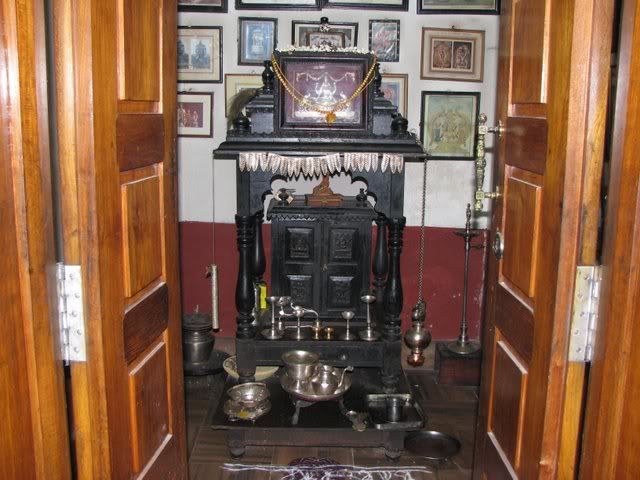 Our last stop was the home of Sir C V Raman; here's his name on the gate, still intact!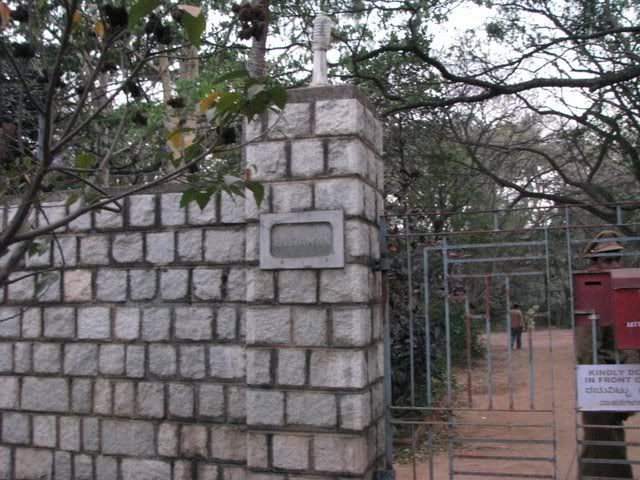 This house is in large, spacious grounds and gives us an idea of how each bungalow was set in a very large garden.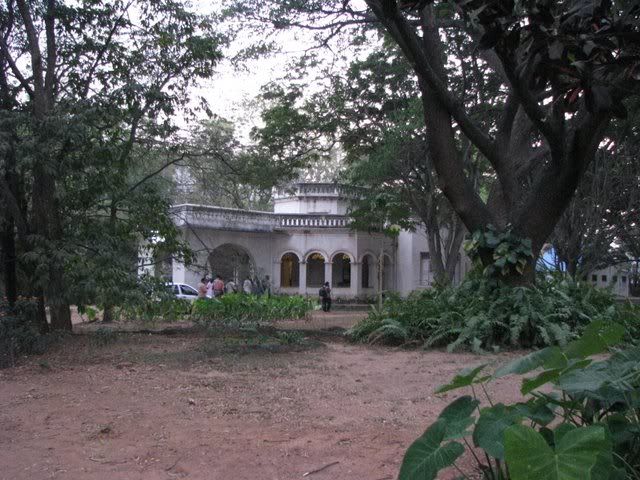 By this time, it was nearly dark, and Mohan suggested that having seen so many heritage buildings, we could not go home without visiting another ancient place…the Central Tiffin Room: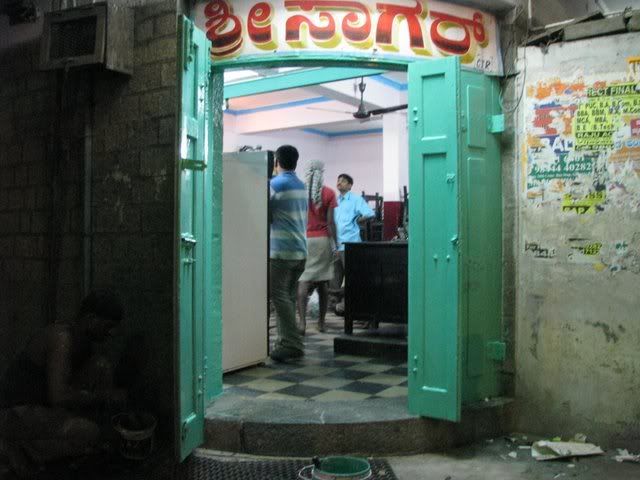 Now it's called Sri Sagar…but alas, it was being painted, inside and out, and they told us it would open (naturally…Murphy's Law!….the next day!) So we went to another landmark, the Janata Hotel, instead, in the heart of Malleswaram market. By this time, I had returned the S5 to Divya, so didn't take any more photographs!
We returned home with our eyes and minds still in the past…. ⊕