"You want clothes altered or repaired?" asked one of my friends recently. "Then you go to one of the 'chhota tailors' in the Jayanagar 9th Block area!"
So that's where I did go. I found several tailors, sitting at their machines…on the footpath, (I have written here, about how our footpaths are vibrant with life and commerce.) But this one, Gajendra, is different from the rest…he advertises!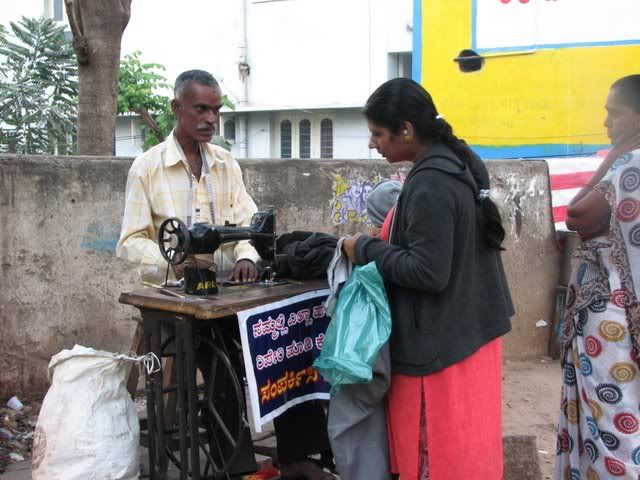 His banner is stuck to his sewing machine!
He is not "attached" to a cloth shop the way most of the others are, he is independent. And his banner says, "Old clothes repaired and altered…contact Gajendra."
I asked him, and he cheerfully said that he would alter any clothes and dresses that I brought. These tailors charge very reasonable rates, too. I had several sets of poplin pyjama kurtas stitched through one of the tailors, and the work was well done!
More power to Gajendra and his fellow-craftsmen. They make life that much easier for the average citizen, who cannot afford to buy new clothes each time there is a tear, or who get clothes handed down from others and use them economically.
In our culture, nothing is wasted; everything is used and re-used. I would hate to lose these thrifty habits of ours.
So..the next time you go to Jayanagar 9th Block, look out for Gajendra. He sits behind Muniyappa, the locksmith, whom I have written about earlier. ⊕