As I walked down the Mini Forest, I came across these members of a musical band, taking a break: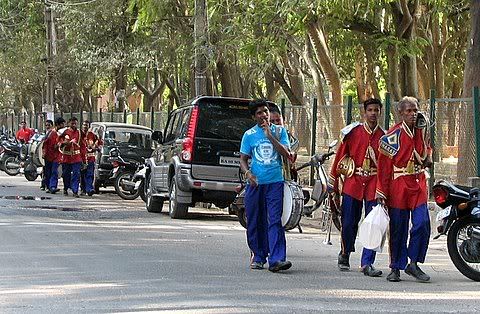 When they are performing, with their bright braided uniforms and their shiny instruments, they create magic at weddings and other celebrations….
You can see the wind instruments in the picture above, and below, you can see the drummer carrying his drum and walking (is he walking to the beat of a different drummer? 😀 )
Shorn of their finery, however, they are a collection of people who are eking out a precarious livelihood. Engagements are not easy to find, though north Indian weddings are still an unfailing source of employment….
What circumstances made these people collect, and make music together for a living? What is their level of basic education? I could not go up to them and talk to them, but I wonder…! ⊕