We've been moaning about the India Coffee House on M G Road shutting down soon, but when I went for the INTACH-organized Heritage walk on Avenue Road, I was astonished by the site of a van vending coffee and snacks to several people, early in the morning! Apparently it's there every weekend morning, I am not sure if it's also there on weekdays:
---
Reliable, useful journalism needs your support.
Over 600 readers have donated over the years, to make articles like this one possible. We need your support to help Citizen Matters sustain and grow. Please do contribute today. Donate now
---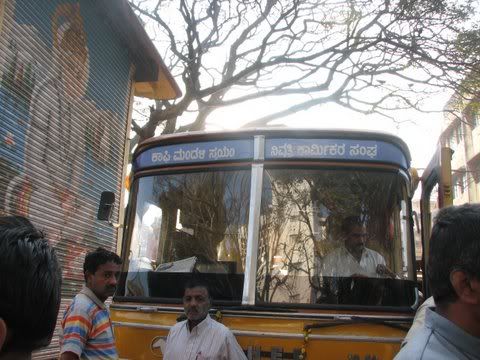 The van is run by the "Coffee Mandali" or Coffee Board…five rupees gets one a china cup of piping hot coffee!
Here are several people jostling (as usual, Bangaloreans seem never to have heard of the word "queue") for their morning cuppa…
It was a great way to begin a Heritage walk…with coffee from an institution that belongs to times gone by….! ⊕