Some of the BULBs (Bangalore Urban Lady Birders) decided to meet up for lunch at Halli Mane on Sankranti Day:
Support Citizen Matters - independent, Reader-funded media that covers your city like no other.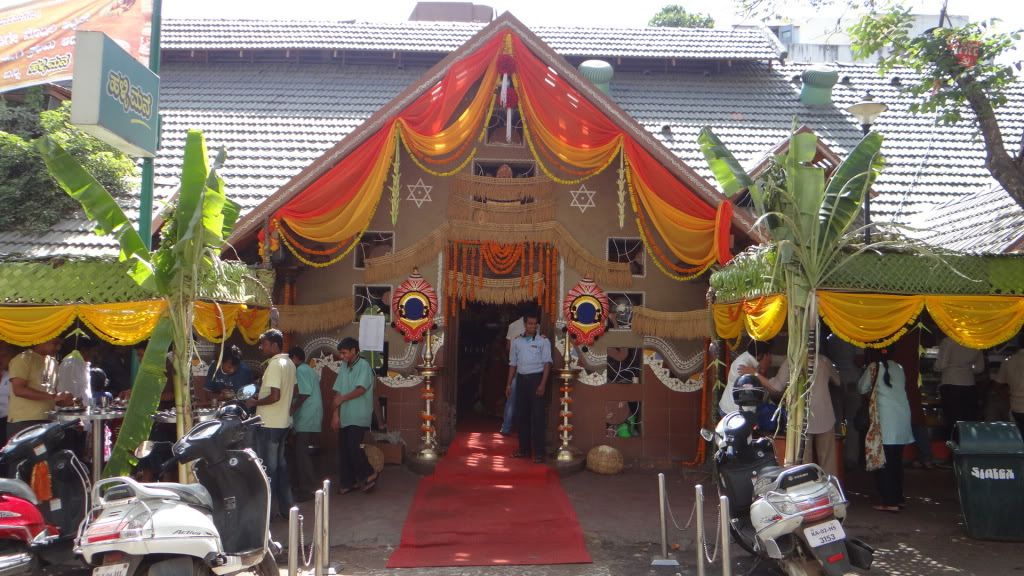 The decorations were beautiful…
made of palm fibre:
made of palm fronds:
This is the menu, as displayed on the board:
kharabUjatha rasa (Musk Melon juice)
eLLu–bellA-kabbu (Sesame seeds-jagger-sugar cane)
hesaru beLe pAyasA( Mung dal payasa)
mAvina midi uppinkAyA (Maavadu, small mango pickle)
chOLada kOsambari (Salad with corn and grated carrots)
moLagekkALu, dAdimba kOsambari (Salad with sprouted green gram and pomegranate)
Alu gaddE palyA (potato curry)
dondekkAi, gOdambi palya (…… curry)
mAvina kAyi chutney (mango chutney, not sweet)
sihi pongal (sweet pongal)
khArA pongal (savoury pongal)
avarekkALu usli (preparation with winter beans)
avarekkAlu bAth (rice with avarekkAlu beans)
happaLA-sandigE (appaLAm and vadAm) (the appalam or paapad was made from jackfruit)
avarekkALu gasi
annA (rice)
thOttE-thuppA (….. , ghee)
thiLi sAru ( clear rasam)
shuntthi thambuLi (ginger paste)
amatikkAyi gojju (hog-plum gojju)
kumbaLakkAyi majjige huLi
guLLa huLi (Udupi brijal sambar)
mosaru (yogurt)
kobbari hOLige (coconut pOLi)
bALe hannina rasAyana (ripe banana custard)
avarekkALu masAla vade
avarekkAyi hayagrIvA ( a thick gravy preparation)
bharathA
bhAvanA shuntthi (digestive; ginger with sour tones)
bALe haNNu (banana)
ele-adike (betel leaf and supAri)
The leaf looked like this, when I had to start eating, as I had to finish some of this before the next few courses:
At this point, 18 of the 30 items were on the leaf. And at the end, the leaf had to look like this:
Here are all of us, kindly clicked by a fellow-luncher: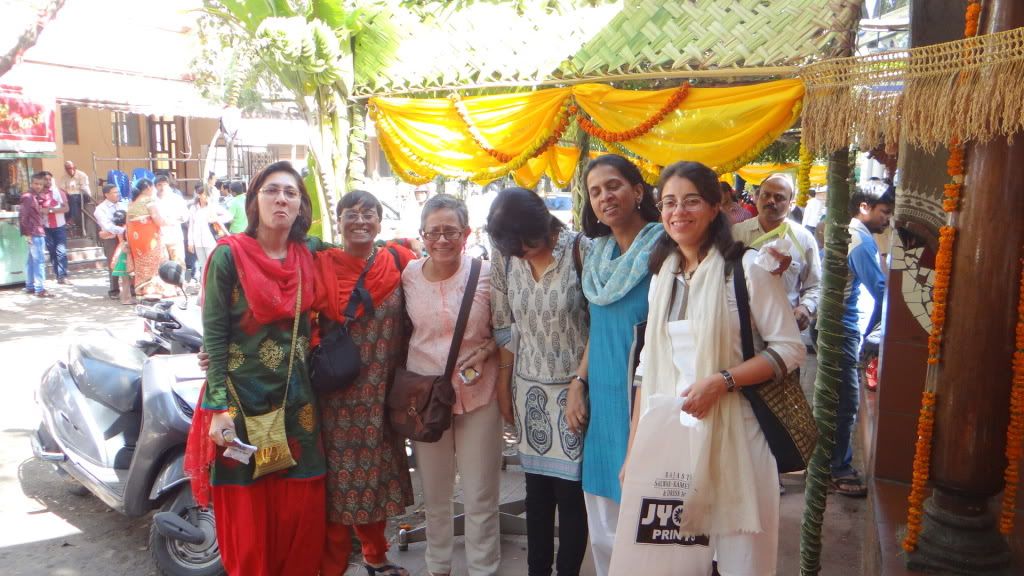 This is for every fellow-Indian (especially Kannadigas) who cannot have food like this when they feel like it….I thought of each of you!
⊕