Playwright: Mahesh Dattani
Support Citizen Matters - independent, Reader-funded media that covers your city like no other.
Director: Lillete Dubey
Actors: Lillete Dubey (old Nazia), Soni Razdan (Zarine and Ruby), Neha Dubey (Young Nazia, Shakuntala, and Nikhat), Sid Makkar ( King Dushyant, Suhel, and Vinay), and Priyanka Karunakaran (an aspiring stage actress)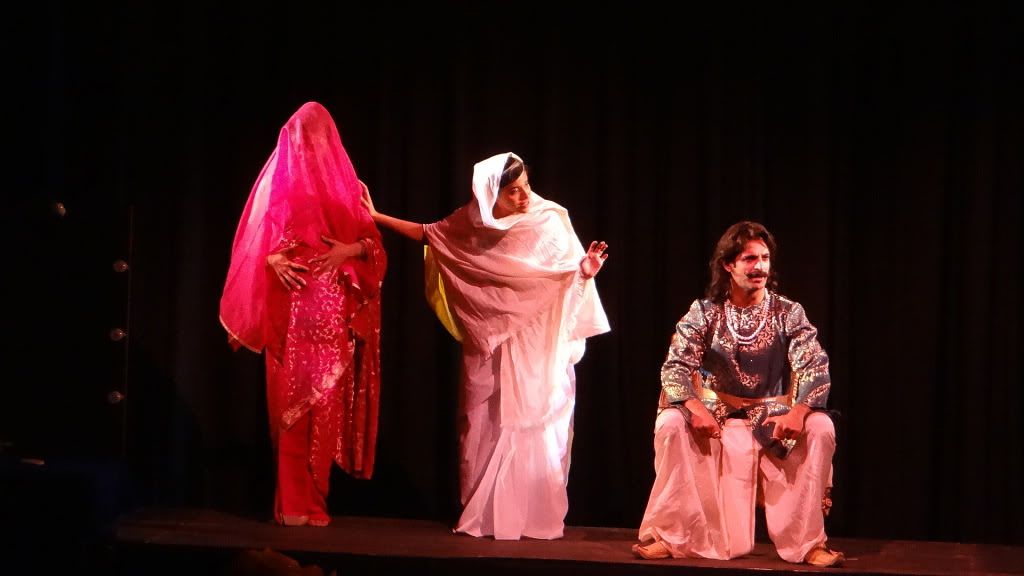 Pic: DM
Well, those facts start off my review of the play; the rest of the unit…the all-important crew….their names were announced rapidly at the beginning of the play, and I could not take them down in the dark; nor was any brochure given, where I could refer to the names…an oversight I hope will be rectified in further productions of the play.
Pic: DM
The play opened in Mumbai on October 30, 2012, and this is the first time that Lillete Dubey was performing in Ranga Shankara (she likes large theatre venues, see the excerpt from my round-up of the Bangalore theatre scene in this e-magazine, " Lillette Dubey, when contacted just prior to their staging of the former's play The Wedding Album at Chowdiah Memorial, felt that the Bangalore theatre scene was not really very vibrant just now. Lillette feels that smaller theatre spaces make stage performances economically unviable, and stands by her formula of large productions and many shows." Link to the round-up:
Click here
Mahesh Dattani proves that he has not lost the masterly touch he's had, of delineating the dreams and dilemmas that people face, especially when they live in the make-believe atmosphere of theatre.
Nazia ( which was played with great conviction by Lillete Dubey) is a yesteryear theatre actress, who moves after Partition, to India, to pursue her passion for theatre.
The play, within a play, Shakuntala where Suhel and Nazia play lovers off-stage and on-stage, is a metaphor Nazia's own troubled life. King Dushyant in "Shaku" (Nazia Sahiba's post-modern version of Kalidasa's classic) has selectively forgotten his lover Shakuntala and her love because of a curse upon her; but it's Nazia herself who opts to forget her own traditions and family in Lahore.
Even in a written text, it is not easy to move scenes between different eras; in the play, it was beautifully executed, with different parts of the stage, selective lighting, and just a handful of actors taking up different roles and costumes. At no point was the audience unsure about the time frame; and this was as much due to the technical competence of the crew, as to the good acting of the cast.
The play shows up Nazia in various hues; at some points, she's ambitious, crafty,and obsessed with playing Shakuntala in her stage production; at others, she's a passionate artiste who wants to move on with the times, to make even classics contemporary.
She dislikes her niece, Ruby (played expertly by Sonia Razdan), and there is constant friction and sarcasm between these two women, with Ruby making it clear that her mother (Nazia's sister)'s contribution has never been properly acknowledged by Nazia.
The young Nazia was played to perfection by Neha Dubey; and the love between her and Suhel (who plays Dushyant in the play-within-a-play) underscores the complexities in their relationship.
Sid Makkar plays the desperate Assistant Director of "Shaku", at the mercy of the diva, who yet is in awe of her. Priya Karunakaran does not have too much to do as the aspiring young actress who wants to play Shakuntala, but she did justice to her role.
Pic: DM
"Love, passion, denial, humour and grief" says the blurb for the play; and begining with an audience-riveting scene, the play certainly deals with all these emotions.
Pic: DM
The collaboration between Mahesh Dattani and Lillete Dubey is one I have followed, and in this play, I'd say it's synergy; the sum is more than the parts. Lillete's familiarity with his works and style made it possible to stage an excellent production even in his absence; but we in the audience missed our Bangalore playwright, having watched most of his plays, and seen his talent blossom.
The play is set against the famed company
theatres that performed dance-dramas through the 1950s till the 80s.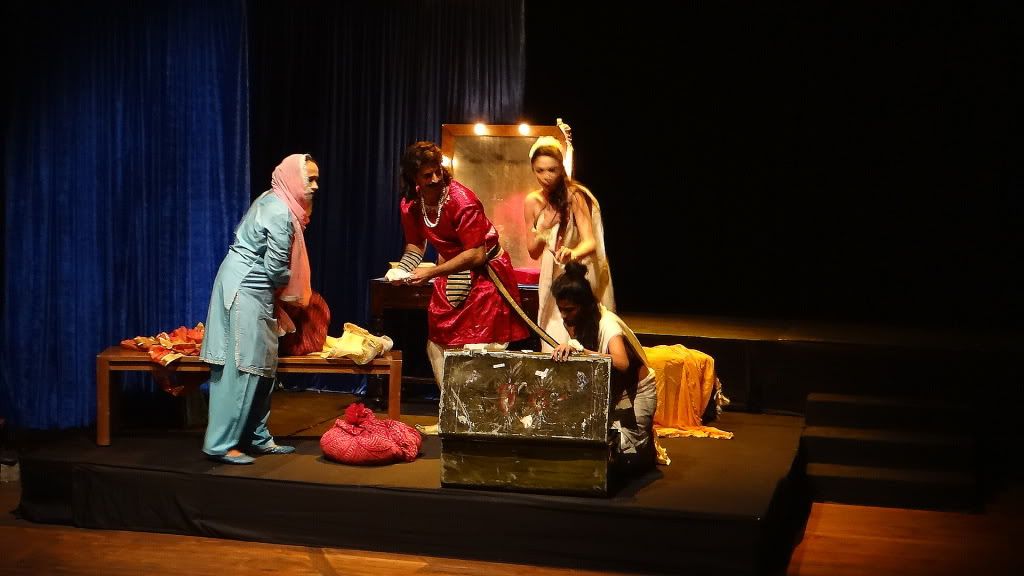 ⊕