A memorable meeting…
On the 6th of November,2011, I was privileged to be at a gathering of some of eminent birdwatchers of Bangalore. The gracious host was none other than the doyen of birdwatching in Bangalore,
who has been instrumental in popularizing birding as a hobby in our city; ironically, the hobbby seems to be catching on in ever-increasing numbers as the number of species of birds in the City's shrinking parks and vanishing lakes are steadily decreasing.
Here's Zafar Sahib, whose long years of service to ornithology cannot be understated:
Several other eminent ornithologists and scientists, all of whom share a passion for birding, had gathered there.
A special visitor was
Aasheesh Pittie from Hyderabad.
Er…. the Wiki entry is in Finnish!….the rather funny Google translation is, "Aasheesh Pittie (b. 1961) is an Indian ornithologist.Pittie has completed a BA in economics from the University of Osmanian Hyderabad . His life work he has done, however, bird science. He has published several scientific articles on the Indian and South Asian bird life. He has been provided by various ornithological journals, and is one of Indian Birds journal suppliers. She has received many honors." Let's forget the mixture of pronouns, he's founded many ornithological journals and is the founder of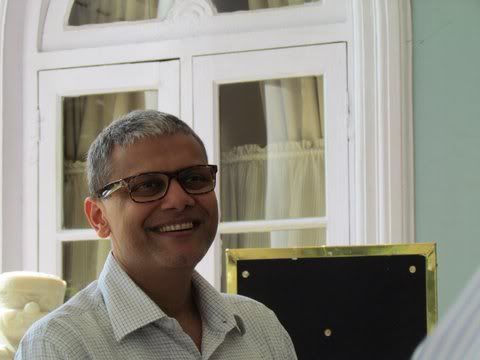 I also wanted to get a picture of J N Prasad, Dr M B Krishna, and Dr S Subramanya: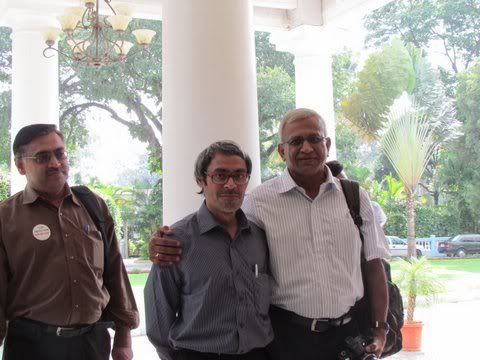 This photo also has Praveen J, and L Shyamal….Shyamal is the most prolific contributor to Wikipaedia on natural history in India.
All of us got together for a group photo to mark a memorable occasion.
An august gathering, indeed, even though it was held in November! Health, and a span of 93 years on the planet, does not permit Zafar Sahib to be as physically active as before, but he follows the emails on the birding groups in our country, and abroad, quite keenly. We are lucky, indeed, to have ornithologists of his stature amongst us in our city.
⊕