A very nice walk….
I've been interested in, and involved with,
a daycare and children's activity centre, for a while now, since I did a project with the children about trees. And having done the
a little while ago, I wanted to take the children there, too; so this morning, Viji and I rounded up some children and off we went!
We started at the Brigade Millenium arch entrance:
And as we went, I pointed out various interesting things to them. Here they are, keenly observing a grasshopper!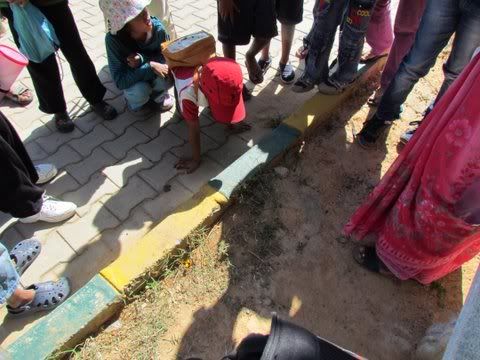 The children were full of curiosity…their sentences always seem to end in either question marks or exclamation marks! We were joined by
Usha Rajagopalan of the Puttenahalli Neighbourhood Lake Improvement Trust
who, with her band of tireless volunteers, has been maintaining the lake…and saving it from almost-certain disaster.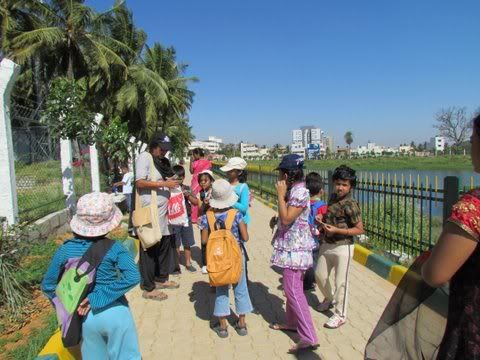 They looked at various insects, trees (that PNLIT has planted, and others, too) and birds…and Usha explained various things about the lake.
She gave each child a pencil to write or sketch with (several of the children were already writing down what they saw, or sketching it!), and I asked everyone to pose for a group photo:
Here are some of the birds we saw:
Coot, Common
Cormorant, Little
Crow, House
Crow, Jungle
Duck, Spot-billed
Egret, Cattle
Egret, Little
Garganey
Heron, Pond
Heron, Purple
Jacana, Pheasant-tailed
Kingfisher, White-breasted
Kite, Common (Pariah)
Moorhen, Purple
Munia, Scaly-breasted
Mynah, Common
Waterhen, White-breasted
Here is the
PURPLE MOORHEN:
and the
PHEASANT-TAILED JACANA: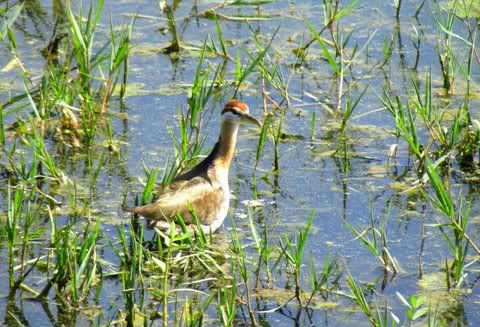 We wound up with a lovely breakfast of Uthappam and coconut chutney, delicious after the sunny walk!
⊕