Here's a nice image of the past and the present, juxtaposed…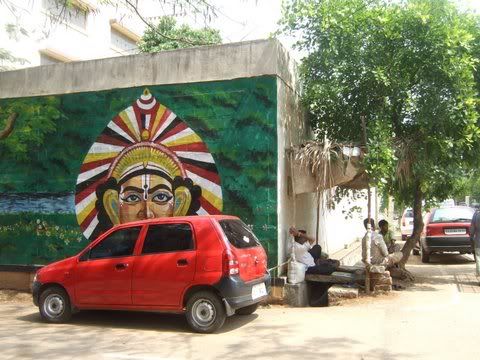 This was right next to Ranga Shankara, where I had gone to watch the end-of-workshop presentation that the children were doing for their parents and others. The mural is of a Yakshagana artiste, with his colourful headgear…. a popular art form in the past. The present is the increased pace of life, represented by the automobile. This car is the Maruti 800, which truly brought car ownership to the masses in India.
And what happens when the past, and the present, inevitably, melt into the future? Here's what will take one to the hereafter:
We love to euphemise, so this is termed (on the back of the vehicle) a "Vaikunta Yatra Vehicle" (Vehicle to travel to heaven)! On the side, though, in Kannada, is written, "uchita shava sAgisuva vAhanA" (free vehicle to transport a corpse)! That seems very matter-of-fact….
That was a slice of life in J P Nagar…all the tenses, and life and death….co-existing peacefully, within the space of a few yards!
tiny_mce_marker ⊕