Yesterday, because of Smt. Saraswathi, who is a long-standing devotee and visitor of avery old temple in Vasanthapura…the Vasantha Vallabha Raaya Swami Devasthana, dedicated to Vishnu and Lakshmi, I happened to visit it, and I came away deeply impressed.
Here's the temple….
Another view:
Here are the beautiful brass Dhwajasthambha (flagpole) and the pavilion behind it:
Some more views of the decorations outside the top:
As one enters, one sees haldi and kumkum bowls at the feet of the Dwara Palaka (Guardian of the entrance):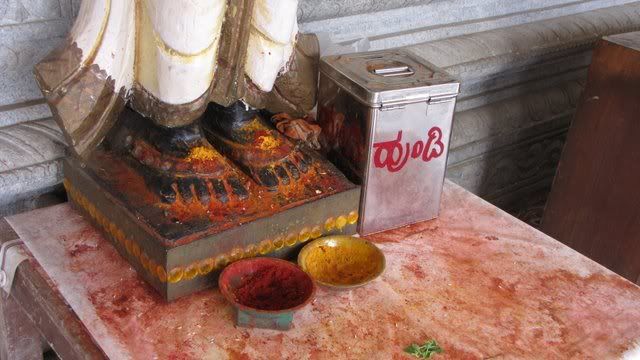 Here's a view of one of the Dwara Palakas:
At the entrance is the Sannidhi of Garuda, Vishnu's vehicle:
By sheer chance, a Seeta Kalyanam (marriage of the God and Goddess) was happening as we visited. Here are the Utsava murthis, bedecked in regal grandeur:
Here is the adorned idol of Amman, facing the Utsavar: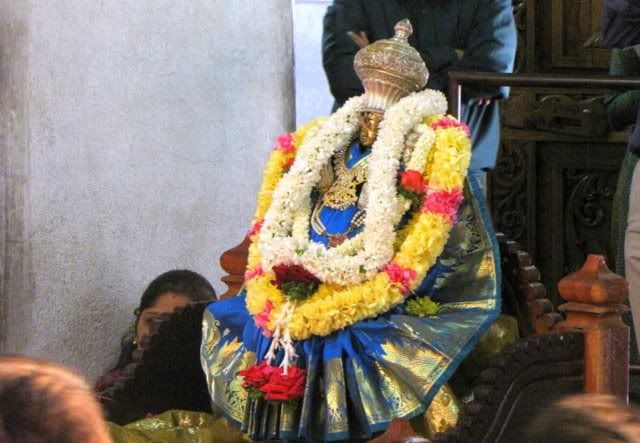 The "thirai" (curtain) was held in front of the Utsavar after the abhishekam:
Each time, the priests exchanged the garlands of the God and Goddess, reciting their lineage for three generations "Naphtrae/Naphthreem; Pouthrae/Pouthreem; Puthrae/Puthreem) as we do for our weddings, too:
Arathi was shown to the idols:
Click here to see a short video that I took, you can hear the relationships being chanted (for the Goddess).
In front of this temple is another small and old temple, dedicated to "Sri Rama Jaya Rama Anjaneya":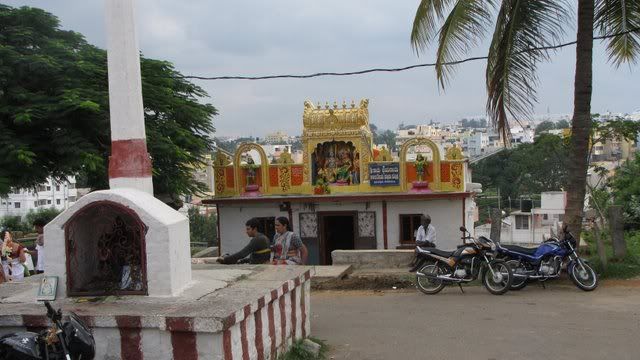 This, too, has an ancient pavilion for people to use:
The public space around this temple is still lovely, with flower sellers hawking their wares, and several trees.
A wonderful piece of history, heritage, and the Hindu religious tradition of our beautiful city, that I was lucky enough to see by serendipity…thank you, Smt. Saraswathi! ⊕
For more info about the temple, visit heritage architect Krupa Rajangam's article