She prays to Lord Krishna, who provides her with an unending stream of saris to protect her modesty.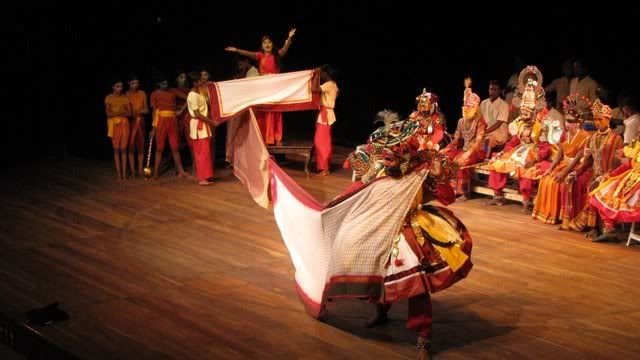 An exhausted Duhsasana falls to the ground, wondering at the mystery.
The Pandavas and Draupadi curse the Kauravas, vowing to kill them in war. Dritharashtra, the father of the Kauravas, realizes the seriousness of the situation and tries, in vain, to beg forgiveness, saying he will return everything that the Pandavas lost, to them.
A blind Dhritarashta stumbles into his own court.
Bhishma the patriarch, and Vidura, both acknowledge her divine nature, and enraged at this, Duryodhana orders Duhsasana to place her on his lap.
In an episode that occurs in Villiputtur's Tamil Mahabharata, and is being performed on stage for the first time,an outraged Draupadi challenges Duryodhana to another game, staking her own chastity. Throwing the dice into his face with her foot, she wins the game.
Obeying the command of the elders, the Pandavas and Draupadi leave as free people, to live in exile for 13 years, and prepare for the great Mahabharatha war, in which the hundred Kauravas and their allies will perish.
The performance was excellent, with subtitles and introduction provided by Hanne M. de Bruin, which helped the audience immensely. The costumes were colourful and lavish, and a simple stage setting yet enabled all the special effects to be staged.
However, I could not understand why two Duhsasanas and two Draupadis so often wove in and out of the stage, and indeed, why two Duhsasanas were sitting on stage in the court of Dhritarashtra! I wanted to ask Hanne about it, but there was no interaction after the performance. Also, I wished to know the reason for the facial paint of the Pandavas, especially the green face paint of Bhima.
A very good production indeed….I strongly recommend that theatre-goers catch as much as they can of the annual Ranga Shankara Theatre festival! ⊕