Vinay Sreenivasa and I organized a photowalk to document the last of the beautiful promenade known as Ambedkar Veedhi. One would think that a Government would have the aesthetic sense to leave this most historic of boulevards alone…but no, the Metro must needs run right through this last bastion of public spaces and greenery.
So, to mark the murder of yet another public space, and the funeral of the greenery, we decided to photo-document the stretch of Ambedkar Veedhi…
We started with the desecration that was a tree-shaded Minsk Square, not so long ago; now it's a desert of cement and concrete:
We all met at the General Post Office, one of the lovely buildings at the beginning of Ambedkar Veedhi: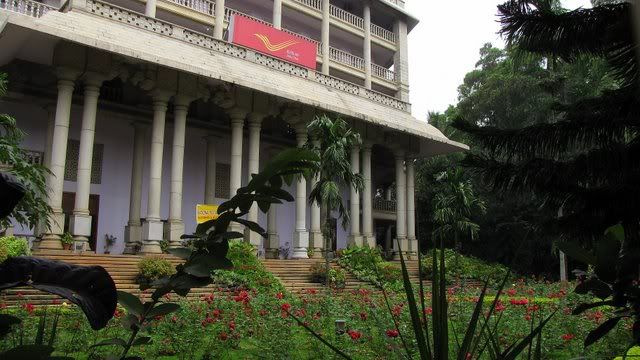 We were faced with the Metro work signboard immediately:
But we could not help enjoying the greenery that was still there…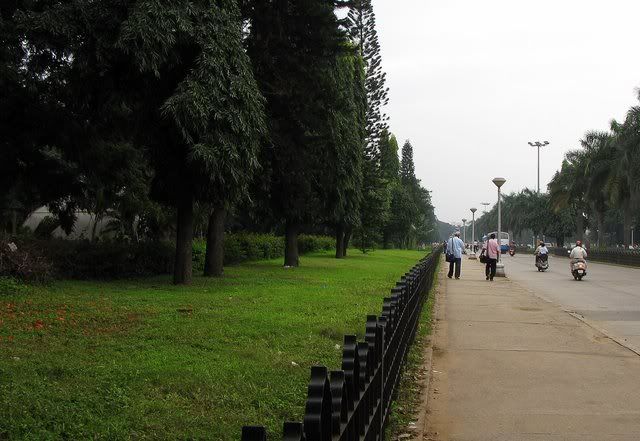 Here are some of us on the photowalk:
The cameras were out, and clicking could be heard…you can see Juthika, and Mohan, from DNA newspaper, who had come to cover the photowalk:
They interviewed us, and the article will be in the 10th October issue of DNA (Sunday).
One of us looked rather bemused; "Is all this really going to be spoilt?" he seemed to be wondering.
Here are some of the group, including Vinay Sreenivasa and others who are volunteers for Hasiru Usiru:
Here's the beautiful criss-cross of a Traveller's Palm, one of the trees slated for the axe: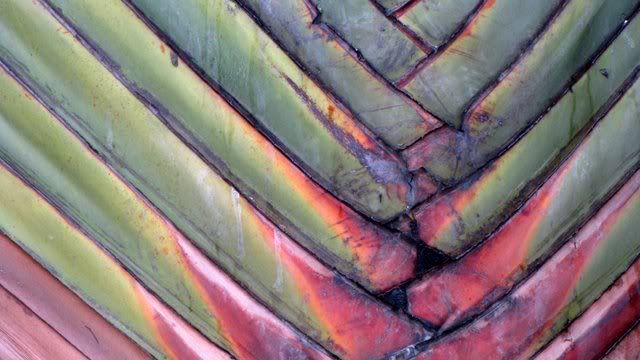 Here is the marking that says that the tree (a lovely confifer, in this case) is to be axed:
The Government has not even had time to properly paint the new name of the road (Dr Ambedkar Veedhi) on the old signboard: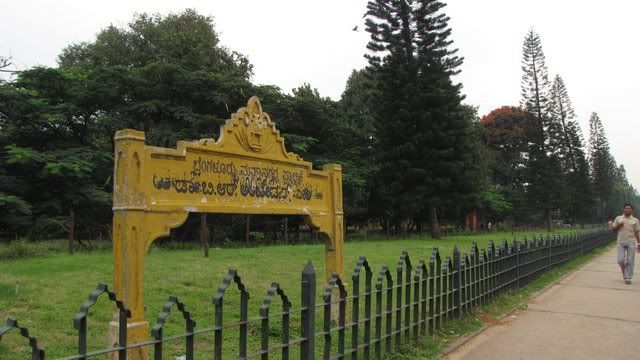 In front of the High Court gate, the theodolites were out and were in use: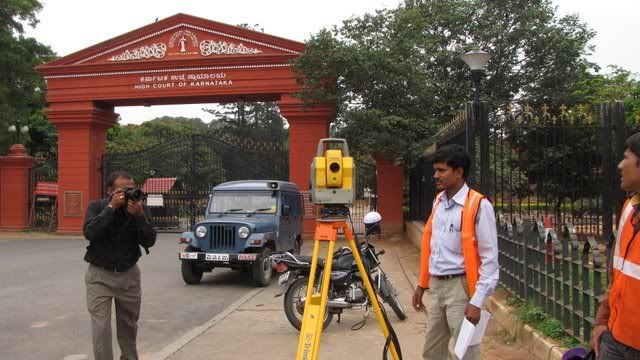 We looked up at the Vidhana Soudha…was this the vision that Kengal Hanumanthiah had for the setting of his jewel?
This Black Kite seemed to be perching on a light fixture as if, perhaps, aware that there would be far less trees in the future:
The beauty of the High Court Building, which conservationists had saved from demolition, was majestic:
Of course, some tourists were busy plucking all the flowers they could:
The High Court and the workmen seemed to represent the past, and the future…and a tense present:
Already, the bulldozers had begun their work in the High Court complex: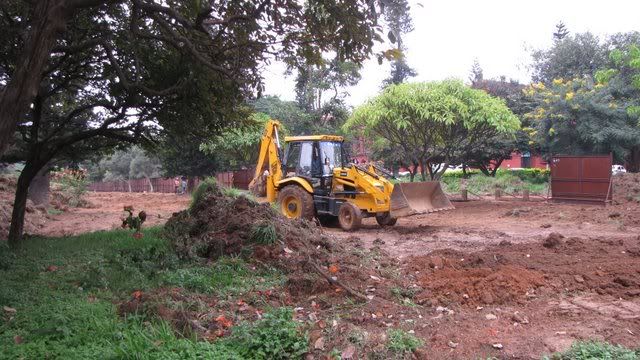 We slowly wended our way home through the greenery of Cubbon Park, wondering what the Wodeyars, who had laid out such green public spaces, would have made of this destruction in the name of progress:
It was a sad documentation, and we all went home without the usual joy that we get from a photowalk…this was a burial of something that we all loved, and our hearts were heavy.
When we see that the cost of the first phase, alone, of the Metro is right now at Rs.11,500 crores, we wonder what is the real price we are paying for "development".⊕