Writing about something is better when one tries it out too. I wrote about the Free Shuttle offered by BMTC between the City Railway Station and the BMTC (Majestic) Bus Station,
so, when I returned from Hospet last Monday morning (13th September 2010), I decided to try it out.
For a start, the Free Shuttle stand is right in front of the entry/exit point of the Station, and clearly marked.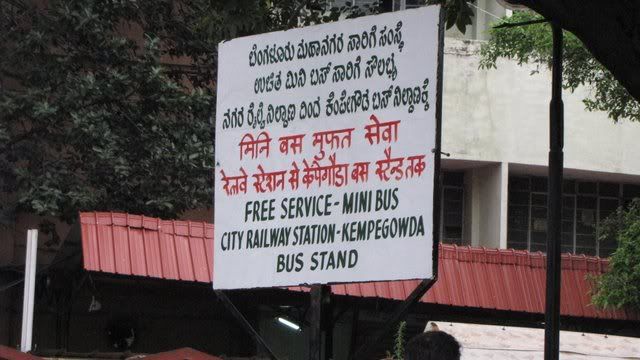 As you come out of the exit and face the Prepaid Auto stand, it is to the left of the stand.
I had to wait about 15 min for the shuttle, and I think that is the approximate frequency of the shuttle, too.
There were only two other ladies apart from myself in the shuttle as it departed. Theysaid they were also trying it out for the first time! The driver, however, said, the response was quite good.
Perhaps this was a bad morning on which to try this out; there was a huge traffic jam outside the Station, and it took us 20 min to get to the Majestic Bus Stand! I feel that on normal days, the shuttle may reach in a few minutes. The Shuttle has a luggage rack, too:
The shuttle stops in front of the BMTC building, and I walked inside and out on the other side to access Route no. 365 that would take me home to J P Nagar.
Thanks to the BMTC for this excellent facility! ⊕