Yesterday, hundreds of concerned citizens turned up at the spot where BMRCL proposes to have a Metro station inside Lalbagh itself…and had broken down a part of the Lalbagh wall, and felled several eucalyptus trees. They have not yet received permission to do this, so it was illegal, and citizens also reacted emotionally to their greenery being despoiled in this way.
Here's the portion of the wall that was broken down: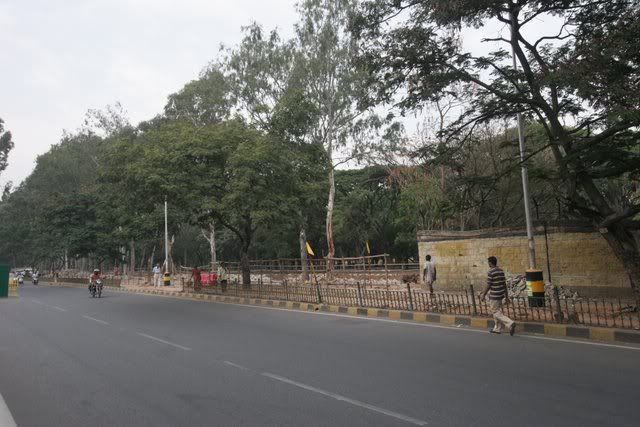 Several police officers were on duty, and they had the unenviable task of keeping the peace while not antagonizing the citizens. Mr Dawood Khan kept a low profile throughout, though he maintained that this area was not R V Road, something that the citizens disagreed with (the bus shelter that has now been removed, clearly said, "R V Road")
As people got together, they formed the chain of protest: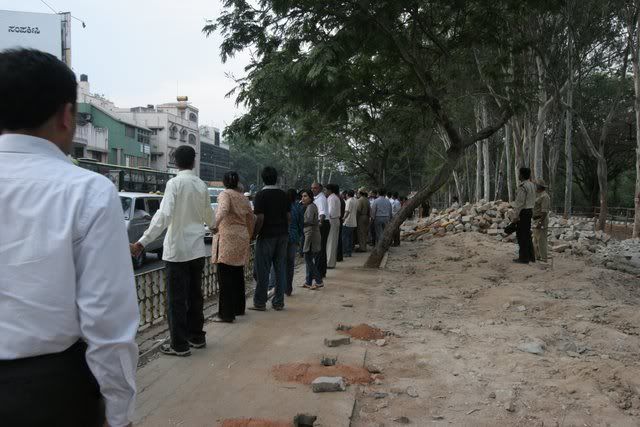 Some of them seemed to be using this poster to point to the damage being done to our beautiful public garden:
Some people came along in gear that made sure that media attention was turned on them!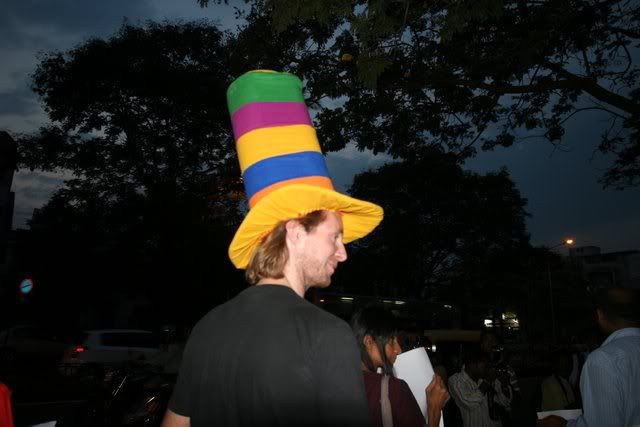 Several innovative posters conveyed the citizens' feelings; this one, with the elections around the corner, was particularly apt!
Leo Saldanha of ESG spoke and pointed out that alternative solutions were possible and should be looked at, without destroying the periphery of one of the few gardens the city has….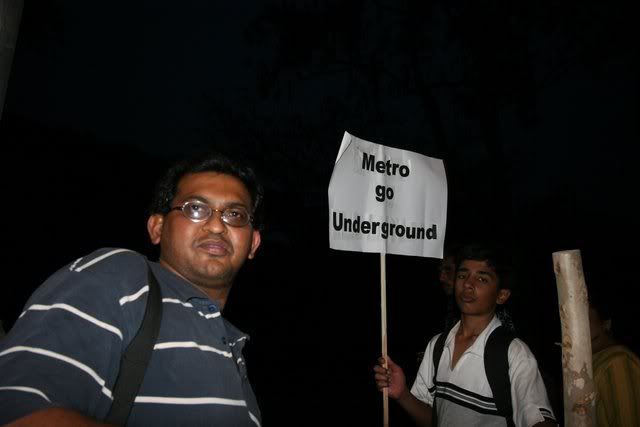 It was sad to see the tree stumps…what's gone cannot be brought back by any amount of protesting.
Two independent candidates, Capt. G R Gopinath, and Santosh Min, were also there, and spoke to several people, in support of defending the trees. Here's Capt Gopinath's campaign vehicle:
The protest was peaceful and well-attended, but it remains to be seen if anything positive will come of it, and the Metro authorities listen to the voice of the people, or continue with their plans… ⊕